Nwanfor Samson Tochukwu caught with 75 wraps of cocaine on way to Dubai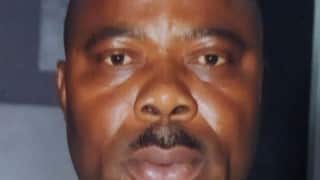 Officials of the National Drug Law Enforcement Agency have prevented an attempt by a 49-year-old stationer to export 1.699kg of cocaine to Dubai, United Arab Emirates.
The arrest was made at the Nnamdi Azikiwe International Airport, Abuja when a passenger, Nwafor Samson Tochukwu, tested positive for narcotic ingestion during the outward screening of an Ethiopian Airline flight.
The NDLEA commander at the Abuja airport, Hamisu Lawan, said Nwafor excreted 75 wraps of whitish substance that tested positive to cocaine weighing 1.699kgs under observation.
Lawan said: "The Abuja airport command of the Agency arrested one Nwafor Samson Tochukwu who tested positive for drug ingestion during routine check on Ethiopian airline passengers.
"He was immediately placed under observation where he excreted 75 wraps of cocaine that weighed 1.699kg."
The suspect, who hails from Awka North Local Government Area of Anambra State, said he was offered N1.5 million to smuggle the drugs.
Tochukwu said: "I live in Lagos with my wife and five children.
"I got myself into drug trafficking because of economic hardship.
"They offered me a million, five hundred thousand naira to smuggle the drugs to Dubai.
"I thought it will be easy for me to go undetected, but I was arrested in the process."
The Chairman/Chief Executive of the NDLEA, Colonel Muhammad Mustapha Abdallah (retd), called on members of the public to be cautious of the evil plan by drug trafficking organisations to ruin their destinies.
Abdallah said: "Members of the public should not fall into the trap of drug trafficking organisations who are on the prowl of drug mules.
"They entice them with money to smuggle drugs, but will not tell them that they will be caught in the process and sent to prison.
"Unfortunately, most drug couriers end up regretting after they have been caught.
"The Agency will continue to sensitise members of the public on the consequences of drug trafficking, but individuals must take personal responsibility in the fight against drug trafficking."
Section 11 subsection (b) of the NDLEA Act, Cap N30 Laws of the Federation, 2004 states that any person who without lawful authority export, transports or otherwise traffics in the drugs popularly known as cocaine, LSD heroin or any other similar drugs shall be guilty of an offence and liable on conviction to be sentenced to imprisonment for life while drugs on conviction in the Emirates and the rest of the Arab world carries the death penalty. Meanwhile, the suspect will soon be charged to court.