Nigerians pressurize NASS to declare OSINBAJO as President of Nigeria
Acting President Osinbajo, Federal Republic of Nigeria
As controversies and conflicting reports surround Buhari's failed return to Nigeria due to ill-health, many Nigerians are of the opinion that the president should step aside and due process should be followed by swearing in the Acting President, Prof. Yemi Osinbajo in line with the provisions of the constitution of Nigeria which allows for this due to incapacitation.
Speaking with journalists, a political analyst and observer, James Edeh, descended heavily on the presidency for being secretive about President Buhari's health.
According to him, 'I think it is high time the national Assembly declared Buhari unfit. They cannot continue to toy with over 160 million people. The truth is Buhari is no longer fit to rule this nation. Let them install Acting President Osinbajo as the new leader.'
This position was also re-echoed by other Nigerians, particularly among social media users.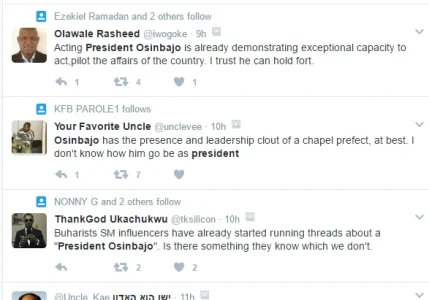 Also lending his voice to the barrage of voices pressurizing the National Assembly to act in line with the constitution of Nigeria and declare Osinbajo president is a chieftain of the Peoples' Democratic party, Jamil Seidu in Kaduna State.
Reacting he warned the presidency against the dangers inherent in playing on the intelligence of Nigerians about Buhari's health and declared that Osinbajo should be sworn in without further delay since it is clear that Buhari is no more fit to rule Nigeria.
His words: "Enough of this hide and seek game. Let them tell us whatever it is. We are tired of this drama. From every indication, Baba (Buhari) is no longer active to lead this country, let the Vice take over."